See on Scoop.it – Location Is Everywhere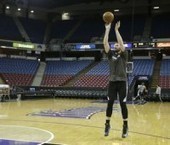 Teams going high tech at practice with GPS training trackers NBCSports.com There are 10 NBA Arenas that have an advanced camera system in their arenas that track literally every movement of the ball and players, giving teams big data — a wealth of…
Luigi Cappel's insight:
The implications of GPS in sport are significant. In the past, top sport teams would have video and people making notes, such as what play a footballer was making when they injured themselves.
Combining sensors on wearable computing clothes, with tracking means that they can not only measure location and movement. They can measure direction of limbs, G-forces, temperature, perspiration levels, speed, heart rate, respiration and oxygen levels and much more.
Take this a few steps farther, doctors and physios can see exactly what is going on with their high performance athletes.
Take it a giant leap farther and people will be wearing haptic virtuality suits, will be able to pick which player they want to be, hang in a suit on a frame, see and feel the game through sensors and vicariously experience the game themselves.
Players will be able to replay their own games and coaching and performance for athletes and clubs with the financial resources will see massive growth. The revenue from this could come from the licensing of data to VR game manufacturers. Of course opponents of those teams would also love to have access to that data.
This technology is only just starting to be developed. I would look to DARPA for the biggest investment to start with because whether it is military or space research, the risks and the rewards are highest.
I foresee game parlors where people can go and experience matches in haptic suits, because consumers won't be able to afford them. Going to these matches will be an elite experience and will be a forerunner to many more entertainment concepts.
Imagine elderly people, or disabled people being able to sense that they are part of the game, perhaps desensitised in some cases, we don't want people getting hurt.
And then of course there is the sex industry, but that's a whole different story. Safe VR sex in a haptic suit.
If you think these topics are new, have a read of a couple of my older blogs here.