See on Scoop.it – Location Is Everywhere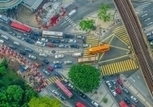 In The World: Mapping the logistics of megacities MIT News As they stood on sidewalks recording each delivery truck, cart or bicycle making deliveries in a one-square-kilometer area of the city, the students could upload the data remotely, posting…
Luigi Cappel's insight:
Having been to a number of conferences and presentations about smarter cities, it is interesting to see that there is little focus in planning on logistics of freight and commodities within the cities.
Major considerations are utilities, roading (based on expected numbers of road users), public transport in its various forms, green spaces, public spaces.
Major transport hubs like airports, bus stations, rail etc are covered, but beyond that, once business and industry moves in, the problems are left to them to solve and rather than taking them into consideration with zoning etc (generalizing of course) the logistics problems are left to businesses.
They have to do their own consolidation, route optimization and hub management around the constraints that the city presents. When conditions in the city change it is their problem.
A classic example was an IT distribution company which built a sophisticated and expenseive semi-automated warehouse on Auckland's North Shore, with a promise that good ordered in the morning would be delivered same day or by the following morning. The North Shore grew in population, congestion became severe and they were no longer able to keep their promise. They had to abandon their modern facility and move closer to the airport.
Traffic congestion alone is a major problem with transport planners typically blaming insufficient funding, but road development still (excluding some classic examples such as in China) creates that situation of build it and they will come.
Ultimately designer city planners and managers can learn a lot from studies like this one from MIT to see how their cities really work as opposed to what they expected them to look like when (and if) they were planned.