See on Scoop.it – Location Is Everywhere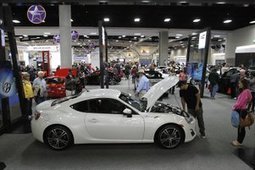 Sticker shock: Why cars now cost more U-T San Diego "The technology is such that a great majority of cars going out have navigation systems, and many of our cars here come standard with Bluetooth and many technologies never thought of," said…
Luigi Cappel's insight:
Having been involved in OEM solutions for cars, there is more to this story than articles like this tell you.
Often it is not so much about the cost of the accessory or additonal features being offered, but the markups that are applied to them. There is a lot of pressure on the market to keep the price of the basic car down, but when you buy the car, you want the nice stereo, the navigation, climate control, reversing camera etc. Many of these items are in fact very cheap and if installed at the time the car is assembled, very low cost to add. However, where it comes to things like engine components, these are considered standard bill of materials with low mark ups. When it comes to other features, markups are often anything from 100-200% over the manufacturers' sell price. For example a sophisticated car navigation system with gyroscopes, connections to vehicle speed sensors and lifetime maps, might cost the manufacturer say $500. By the time the box has been ticked when the car is ordered by a customer, and each part of the business through to the dealer has clipped the ticket, that same car nav unit now costs $3,000! They do this because they can, because the consumer doesn't understand the business model and because to some degree this is where they make their profit margin on the sale of the new car.
Don't be fooled by stories about delivery costs. With today's car delivery trucks, it is cheaper than ever to deliver vehicles to dealerships or to new owners.
If you're still not convinced about how cheap technologies like Bluetooth hands free kits, wireless reversing cameras and car navigation are, go and visit your local car accessory store, or consumer electronics store. Price up that nav unit that has free lifetime maps, or a car entertainment unit that fits into the Double DIN slot in your car including playing MP3, controlling your iPhone, CD's and DVD movies when the car is stationary from the retailer and then compare the same cost as an OEM accessory (which the manufacturer has bought in bulk and committed to 2 years or more of supply to) and see if you can justify the price difference.