See on Scoop.it – Location Is Everywhere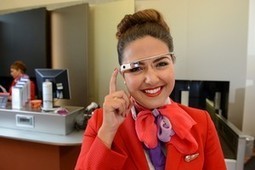 This is Virgin Atlantic will outfit concierge staff in its Upper Class Wing at London Heathrow airport with Google Glass devices as part of a pilot scheme to expedite check-in and offer a more personalized customer service.
Luigi Cappel's insight:
The use of Google Glass is great, but I would have thought they could be more customer focused. I like it when I go somewhere and I get greeted by my name and they know something about my preferences. That's how hospitality gets local customers, not by telling them weather forecasts or generic info. If the trial uses basic generic info a potentially powerful experiment that is technology rather than customer focused could go to waste. 5 out of 10 for innovation. It's about people, the technology is a tool. What do people want? Not a weather forecast, they want to know you care about them as people. Where do I send the invoice?