See on Scoop.it – Location Is Everywhere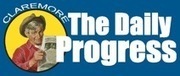 GPS Technology assists with theft reduction
Claremore Daily Progress
Ashley Asher, Clinton Robinson and Dustin Lenard were arrested after deputies used GPS tracking devices to track a stolen trailer.
Luigi Cappel's insight:
I will continue to say it, I love these stories. There are plenty of relatively low cost devices available today that you can put on you valuable assets. You may even find that if you put one of these in your car, trailer, boat, jet-ski etc, that your insurance company will reward you with a reduced insurance premium discount or excess. Bottom line, if you own something and would rather keep it than have to claim insurance on it, GPS tracking is a great investment.
In the meantime, kudos to the police for making it harder for people to help themselves to things they don't own and causing lots of grief to others.
I'd love to see some national stats on the number of vehicles covered and convictions made through the use of GPS.
See on www.claremoreprogress.com