See on Scoop.it – Location Is Everywhere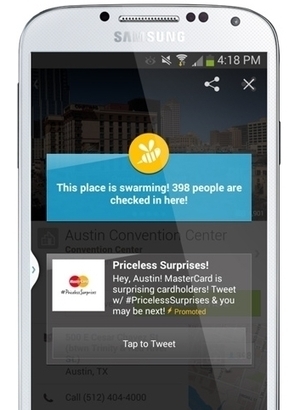 Marketing Pilgrim Facebook gets real, Foursquare taps to tweet and I'm confused Marketing Pilgrim Since many Foursquare users already share their check-ins automatically through Twitter, the app maker thinks it will be an easy leap to get them to…
Luigi Cappel's insight:
This is an interesting move. Obviously Foursquare needs to make more money and as the story says, many people will dutifully tap the ads, especially (it didn't mention this) if it became gamified, as in you get more points.
On the potentially negative side, one of the things I like about Foursquare is the ability to get feedback and 'reviews' from real people. It goes back to the fact that advertising is all hype and many places do not live up to the hype which is the value of crowd sourced information. I would hate to think that functionality like this would lesson the value of tips and information about locations. Hopefully it will be easy to distinguish the difference between advertising and genuine comments, especially if services like this become available at pricing that suits SME destinations.
I trust my peers.