See on Scoop.it – Location Is Everywhere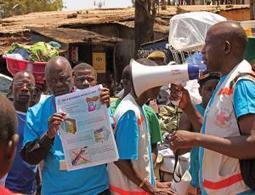 OpOnline army helps map Guinea's Ebola outbreak New Scientist WHEN doctors working for Médecins Sans Frontières (MSF) arrived in the West African nation of Guinea last month to combat an outbreak of the deadly Ebola haemorrhagic fever, they found…
Luigi Cappel's insight:
OpenStreetMap has been around for a long time and I'm told the quality is often as good as commercial maps (depending on the purpose), but this is the first I have heard if Humanitarian OpenStreetMap (HOT).
This is an awesome story about digital map creation that is helping to save lives and the speed within which the volunteers got results is enviable even in this day and age. As the article says. On March 31 (less than two weeks ago) online maps of Guéckédou were virtually non-existent. In less than 3 hours of the request to HOT, 200 volunteers had mapped over 100,000 buildings in 3 cities.
This is an amazing technology that is perfect in a crisis because with a ready army of volunteers there is the potential to create not only maps, including buildings of what any locality looked like before a crisis, but can create a very quick and fairly accurate view of what it looks like after a tsunami, storm or earthquake as we experienced in Christchurch in 2011.