See on Scoop.it – Creating Great Blogs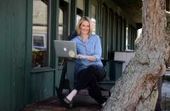 Going rustic: mompreneur turns wedding blog into big business CT Post "It was about finding a way to run two things simultaneously in your life; you have to take it upon yourself to say I am going accomplish two blog posts, 10 emails and five phone…
Luigi Cappel's insight:
This is a really good example of the results of doing a good blog and monetizing it. There are a number of different philosophies in blogging and journalism. One common one is write about what you know. In this case it started with her own wedding experience. You can't get more real than following someone through their own wedding and learning from them.
I'm not sure how many other activities have come from it, but obviously her blog has created the opportunity for her to write and sell her own books to those  who follow her blogs and there is an ever growing market of people getting married, which isn't likely to slow down any time soon.
If you have a special interest that you are engaged in and a passion for writing, following a blog like this and reading back to the beginning could be a great place to find out what she did right.