See on Scoop.it – Location Is Everywhere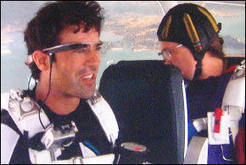 eWeek
Google Glass Users Can Now Get Three New Travel Apps
eWeek
Glass customers have been telling Google that they like using their devices when traveling, so Google has added three new Glassware travel apps.
Luigi Cappel's insight:
The only thing I don't like about Google Glasses is the price tag, especially given that you also need a phone. I love the example of getting an update on flight gate changes.
A couple of years ago my flight broke down in Denver and I was stuck there, worried I was going to miss my connecting flight home from LA. When we got to LAX it was like being in the Amazing Race, but without the prizes. Fortunately that flight was late, but the race of trying to figure out where we needed to go to check in and the urgency of trying to make it would have been a lot less stressful with AR glasses showing us where to go and the timetable.
Combine that with the airline app to automatically check-in and travel will become so easy.
So I'm still stuck with the price tag and given the solutions that are being developed, it may be sometime before the prices come down. I love them, I want a pair, but I can't justify the price when I don't need it.
Hey Santa……
See on www.eweek.com