See on Scoop.it – Location Is Everywhere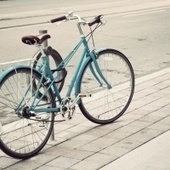 ThisPolice use 'bait bikes' with GPS technology and public Twitter shaming to …
Luigi Cappel's insight:
This isn't the first time I've covered this story. It's a really interesting situation that cities need to think about. I've just been to a number of transport conferences and a common thread is making cities more cycle friendly.
As this story points out, at the same time that more people are taking to the bike paths, so are bike thieves. In San Francisco, just one city, around 4,000 bikes are stolen each year. Now they are putting out bait bikes with GPS so that they can track and catch the people who steal them.They are also providing 'Is this a bait bike?' stickers, pamphlets and tweets with information on how to make your bike less attractive to steal.
While this story doesn't tell all the story, one common thread which shows how stupid a lot of these crims are is that they often get caught with drugs, burglary tools and other stolen items, ending up with hopefully more charges and more serious convictions.
In this side of the world, evangelists like myself have been promoting using ID tags, GPS and other technologies for years, but we don't seem to be keeping pace with the technology. Key limiters are probably cost of tracking systems and lack of programs to support them. The lead of Police such as in this story might give them more confidence and certainly this is an issue that cities need to consider as they make themselves more friendly to green modes of transport.
See on www.digitaltrends.com