See on Scoop.it – Location Is Everywhere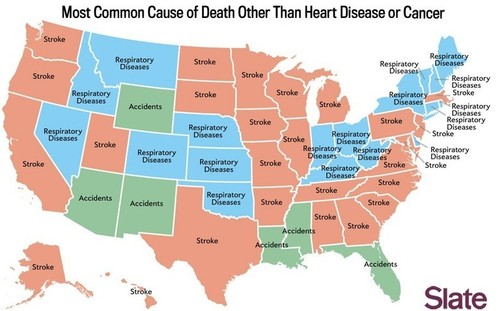 Slate Magazine
You Live in Alabama. Here's How You're Going to Die.
Slate Magazine
Two months ago, I wrote about the fun and the pitfalls of viral maps, a feature that included 88 simple maps of my own creation.
Luigi Cappel's insight:
This is really interesting and should give the health and insurance industries a lot to think about. So unless something changes, it looks like everyone who lives in Alabama should move to Minnesota where they might be able to live an extra 5 years. That has to be worthwhile doesn't it?
It is really good to see maps used like this because large volume stats don't lie. It means that you can look into all sorts of big data and potentially improve the standard of living for people.
The map showing the most common causes of death is fascinating, not just because the most common form of death appears to be heart disease, but why does cancer rank so much higher to the north?
See on www.slate.com