See on Scoop.it – Location Is Everywhere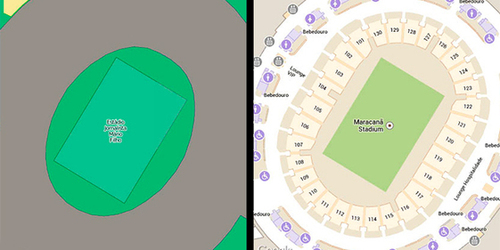 Google Has Better Maps of World Cup Venues Than OpenStreetMap—For Now Wired The Future of Computer Intelligence Is Everything but Artificial · Science Blogs · The Physics of Keeping Cool · Google Has Better Maps of World Cup Venues Than…
Luigi Cappel's insight:
Obviously this makes a lot of sense for Google, because it is as much about advertising and marketing opportunities and search as a whole, where maps is a means to a much bigger end.
Having said that, this is awesome. When you go to stadiums in other parts of the world, getting to and from them as well as finding your way around them isn't that easy and location based services app developers have typically focused on where the location is and checking in. The idea of an app (that I already have) that knows where I am, which entrance to go to, what the traffic density is like, maybe even how to get to my seat is welcome.
Combine that with Google being able to provide everything I ever wanted to know about the World Cup, it sounds like a winning combination. The incentive and justification to spend a lot of money for Google, is much greater than the wonderful volunteers who provide much of what is a wonderful service that is becoming more accurate by the day, in OpenStreetMap.
See on www.wired.com